We breed for top quality Shiba Inu Puppies for the show ring or your home. SEE BELOW! We believe the way our six/seven month old Shiba Inu Puppies are competitive in the show ring, that they would also make beautiful pets. Buy from a Breeder of Merit. Always ask about health checks on any Shiba Inu Puppy before you buy. Also ask about a health guarantee.
We take pride in our Shiba Inu Puppies and we screen potential buyers to make sure that our Shiba Inu Puppies are getting the home that they deserve. We also guarantee our Shiba Inu Puppies against anything hereditary or congenital for a period of three years.
Dave and Gail Gordon were two of the ORIGINAL fifty members invited and approved for the American Kennel Club Breeder of Merit Program as of October 4, 2010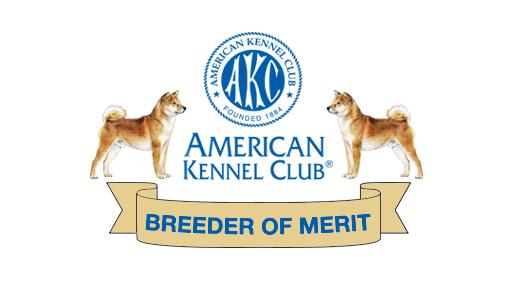 Marma Farms is the breeder of 68 Shiba Inu Champions. There are others pointed.
Sixty eight Shiba Inu Puppies have won points their first weekend shown, most before seven months. More than half of the wins were from the Bred By Class, usually against adults. Thirty nine have won a major their first weekend shown, with twentieth winning both majors the first weekend shown.
Sixteen Shiba Inu bred by Marma Farms finished their Championships in one year.